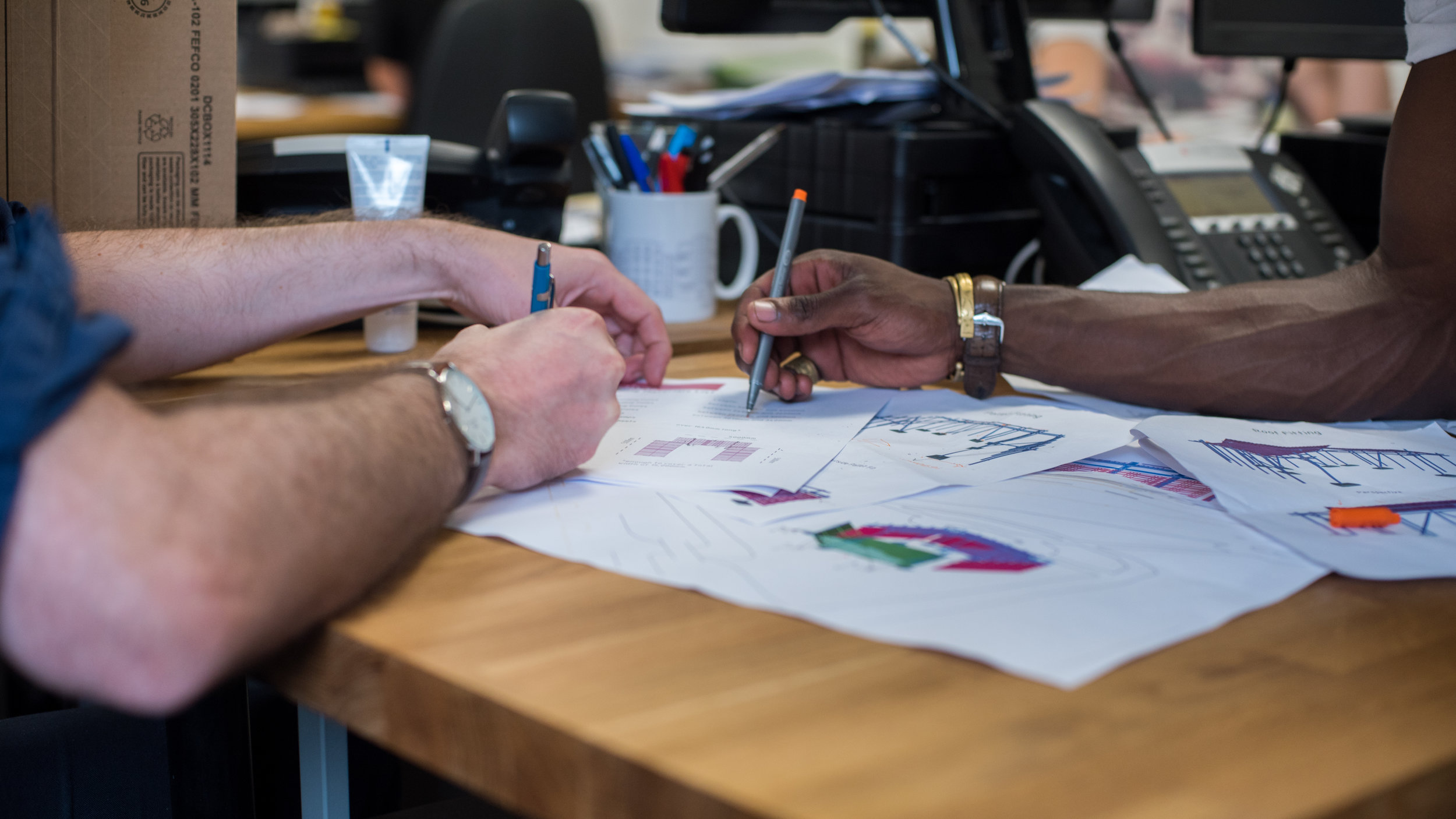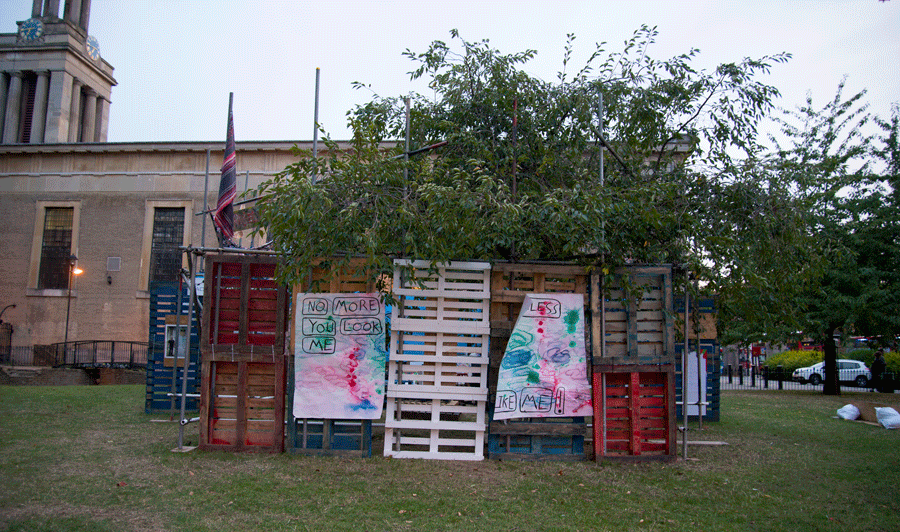 Rebel Space at Night
A temporary pavilion that sat in St Matthew's Church Gardens in Brixton, South London. The pavilion was designed as a permeable structure, open 24 hours a day and made from materials all sourced from within a mile radius of the site. It was constructed for the Brixton Design Trail, part of the London Design Festival 2016, and hosted 8 days and nights of events. The programme consisted of an artist exhibition every morning and talks, film screenings, music and roundtable discussions in the evenings.
Day 1: 'Indent' by Catriona Robertson /'Light & Death' by Ray Fiasco 
Day 1:  Performance by Grace Acladna
Day 2: 'Waves' by Vishnu Jay
Day 2: Exhibition Prepping
We aimed to create a platform that juxtaposes the work of local artists who depict everyday realities in South London, like Vishnu Jay and Rohan Ayinde, and international artists like Quentin Bruno and The Chain Effect Beirut.
Day 3: Exhibition by Rohan Ayinde
Day 3: Diaspora & The Return
Paying homage to Brixton's diasporic communities. The evening began with a talk from Ras Shango Baku, followed by conversation with young entrepreneurs, Barbara Ntumy and Raphael and Kwaku Dapaah-Danquah of the Dapaah Group. Finally, the evening ended with an open mic spoken word session with an amazing performance from Princess Ashilokun.
Day 4: 'Undocumented' by Doctors of the World
For a decade the humanitarian charity Doctors of the World has been running a clinic in east London to help vulnerable people who are otherwise unable to access healthcare. The patients include refugees and undocumented migrants, some of whom have been trafficked or tortured.
For an exhibition to mark the occasion several photographers have contributed portraits of the clinic's users and volunteer staff.
Day 4: Refuge, The Subaltern & Urban Space hosted by UCL Urban Lab
Justinien Tribillon speaks to an audience on Day 4.
Timetable:
18.00: Screening of Ordinary Streets by Sophie Yetton and Suzanne Hall
18.15: Huda Tayob (Bartlett School of Architecture, UCL) - Negotiating Hospitality and Hostility in Cape Town's Refugee Markets
18.25: Justinien Tribillon (Co-Editor, Migrant Journal and Contributor, Guardian Cities) - Subaltern space: migration, the Other, and imagined communities in London and Paris
18.35: Tahmineh Hooshyar Emami (AHMM Architects) - MAPPING IN-BETWEENness: Spaces of Contradiction in Refuge
18.45: Panel and Q&A chaired by Yasminah Beebejaun (Bartlett School of Planning, UCL)
19.10: Screening of No More Beyond
19.50: Q&A with the Director of No More Beyond, Matthias Kaspert
20.10: Drinks and music
Day 4: Refuge, The Subaltern & Urban Space hosted by UCL Urban Lab
Dr Yasminah Beebejaun of the Bartlett School of Planning, UCL speaks.
Day 5: Exhibition by Gaby Sahhar
A South London native of French/Palestinian heritage, Gaby Sahhar made a series of site-specific pieces for the walls of the pavilion that were installed in the middle of the week.
Day 5: Young People's Day by ELUTEC Students
We displayed some of the outcomes of the workshop we led with UCL Engineering Outreach and students from ELUTEC, designing innovative ways to waterproof the pavilion.
Day 5: Young People's Day by ELUTEC Students
Day 6: Exhibition by My Body Back Project, The Asterism Collective, Lora Ghany, Gaby Sahhar and Yara Rodrigues
Day 6: Women, Diversity & Space hosted by TEDxUCLWomen
Lora Ghany is an artist and "young, brown, single-mum" from South-East London, who graduated from Central Saint Martins in 2013 and works predominantly with visual image, performance and social practices.

Her work is concerned with 'space' as a meeting point of community activity within the city, focusing on the relationship between education, counter-culture behaviour and shamanic traditions. Lora's work explores some of the ways that under-represented voices permeate and re-imagine the urban environment.
Day 6: Women, Diversity & Space hosted by TEDxUCLWomen
Timetable:
6.15pm: TEDxUCLWomen showcase and talk

6.45pm: Lora Ghany explores some of the ways that under-represented voices permeate and re-imagine the urban environment.

7.45pm: A short film screening of 'Being Unbound,' followed by a Q and A with the director, Anna Wistreich.

8.15pm: A presentation and spoken word performance from poet and artist, Jacob V Joyce.
Day 7: 'The Brixton Museum' by Katy Beinart
The Brixton Museum is a portable display space and collecting device to record and share individual memories and the communal heritage of Brixton.

Its design recalls the street market traders trolleys and the lost canopies of Electric Avenue.

The Museum offers people the opportunity to contribute their own objects and stories, which are represented through traces and recordings. It also offers the opportunity to view these everyday objects and texts, which relate to the 'heritage' of brixton, whilst major regeneration projects are changing the face of the area and the council's 'Townscape Heritage Initiative' selects what aspects of the built fabric will be kept.
Day 7: Brixtopia hosted by The Brixton Design Trail
A celebration of the final weekday of inaugural Brixton Design Trail. Community gathers in Rebel Space for the closing ceremony, imagining a utopian future for Brixton.
Day 8: Engineering the City hosted by The Engineering Club
Alastair Lenzcer (Director of Expedition Engineering) and Nick Tyler (Chadwick Professor of Civil Engineering, UCL) share ideas on the future of South London's transport infrastructure.
Day 8: Engineering the City hosted by The Engineering Club
Day 8: Exhibition by The Chain Effect Beirut
Cycling is not viewed as a means of transport in Beirut, and the city is not the most cycle-friendly. However, congestion is a major issue, bearing high costs on the economy, society and the environment. The Chain Effect's mission is to promote the bicycle as a sustainable and convenient form of urban mobility and encourage its use in Beirut. They do this through street art, public installations and community projects.
Day 8: Exhibition by Aiman Mukhtiar
KRVIA Mumbai graduate Aiman Mukhtiar displays her redevelopment project for Amardham, an informal settlement in Mumbai.
"Existing patterns of movement, pause points and open spaces have the potential to create a system for housing. Streets release into open spaces which taper and disappear into alleyways, giving every movement through Amardham a temporal nature."
Locally sourced materials
Brixton's history is interwoven with the rich, complex histories of the African and Caribbean diaspora. Cuisine, fashion, language and cultural norms in Brixton, and much of London in general, are drawn heavily from Afro-Caribbean cultures but we see this relationship less so in the built environment. We wanted to draw from the heuristic techniques and vernacular methodologies that are so common place in many African and Caribbean countries, to reflect and affect how we understand the relationship between our global identities and London's urban landscape. Techniques from Kumasi Market, materials from Brixton Market.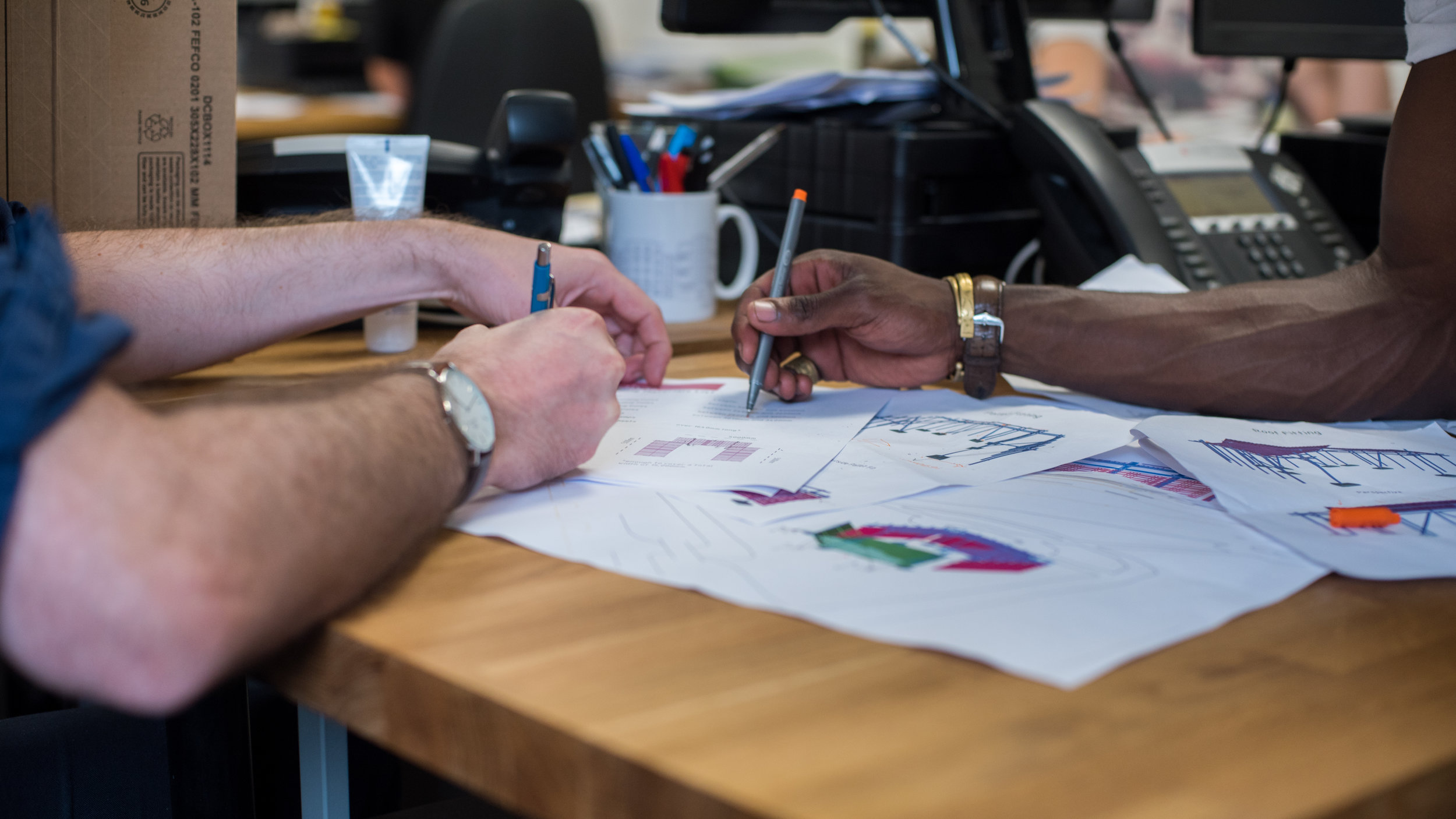 Reviewing plans with engineers
We engaged local engineering firm, Tall Engineers, to ensure the structural integrity of the design.
Constructing the Space
Engaging local communities is key to our process, both in the construction and utilisation of the space. A massive shout out to Lee Scaffolding Ltd for kindly sponsored Rebel Space and provided scaffolding expertise and materials to erect the space.
Teamwork Makes The Dream Work
The success of our projects is reliant on the help and co-operation of others. We believe in co-production, where those involved in our projects are not merely spectators but stakeholders. It is only by this that we are able to execute projects requiring knowledge from a wide variety of disciplines and draw from a broad range of personal expertise and experiences.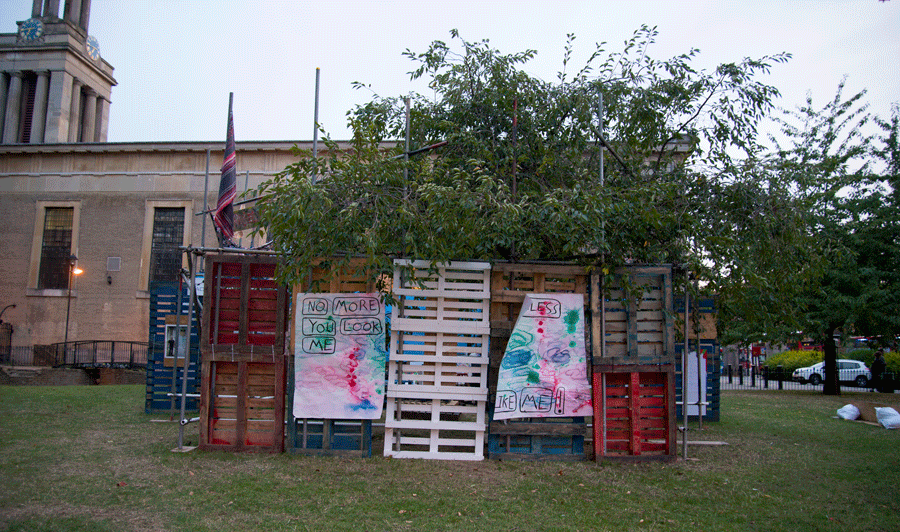 Sponsors
Thanks to our sponsors: The Engineering Club, UCL Engineering, UCL Urban Lab, Tall Engineering, Lee Scaffolding Ltd, Nanban, Sackville Travel.